Suffragette's plea letter found at St Andrews university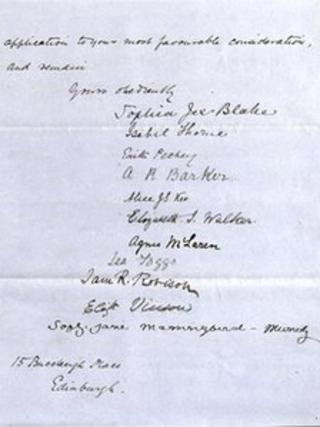 A suffragette's letter calling for women to be allowed to study medicine at university has been discovered by a Fife researcher.
St Andrews University said the document, dated July 17 1873, kick-started higher education for women.
It also led to the creation of the first degree-level certificate in Fife.
The seven-page missive, written by Sophia Jex-Blake, urges the university to allow women to study medicine at the institution.
She wrote it after an unsuccessful attempt to graduate from Edinburgh University.
In the letter, signed by 10 other women, she said that "at least 15 ladies would at once avail themselves of the permission, if given, to matriculate at the University of St Andrews".
The letter was discovered in the university archives by fifth year part-time history student Lis Smith, who is completing her PhD at the University's Institute of Scottish Historical Research.
She said: "We knew that Sophia Jex-Blake and her supporters, in their quest to open up university medical education for women, had written to the Senatus Academicus at St Andrews in an attempt to gain admittance to classes there, but we didn't know documentary evidence existed.
"While searching the archives for information about the university's higher certificate for women, I was astounded to come across what must be the very letter Jex-Blake wrote."
General objection
In the letter, the women offered to hire or build suitable premises for a medical school and to arrange for lectures to be delivered in the subjects not already covered in the curriculum at St Andrews.
Ms Jex-Blake wrote: "The most general objection to the admission of women to universities lies in the supposed difficulty of educating them jointly with male students of medicine."
She wrote that this argument may be applicable to "every university in the kingdom except that of St Andrews" where there are no male students of medicine.
Although her letter was not successful it eventually led to the establishment of the Ladies Literate in Arts (LLA) at St Andrews, a distance-learning degree for women.
The qualification, which ran from 1877 until the 1930s, gave women access to university education in the days before they were admitted as students.
It was so popular that it survived long after women were admitted as full students to St Andrews in 1892.
Ms Jex-Blake went on to help establish the London School of Medicine for Women in 1874.
She was accepted by the University of Berne, where she was awarded a medical degree in January 1877.
Four months later, following further qualifications gained in Dublin, she registered with the General Medical Council as the third woman doctor in the country.