Suzanne Pilley murder accused's injuries 'consistent with struggle'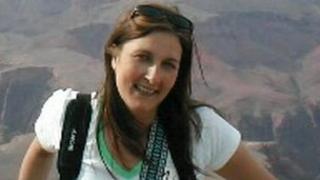 Injuries on the hands, face and body of the man accused of murdering Suzanne Pilley were consistent with a struggle, a trial has heard.
A forensic expert said the scratches, cuts and bruises were likely to have been caused around the time Ms Pilley went missing in Edinburgh.
The jury was shown photographs of injuries which had been sustained by David Gilroy, 49, from Edinburgh.
He denies murdering Ms Pilley, 38, in Thistle Street or at another location.
Mr Gilroy was interviewed at an Edinburgh police station two days after Ms Pilley went missing on 4 May 2010.
Strangulation
The jury at the High Court in Edinburgh heard that Mr Gilroy had curved scratches on his hands, a cut on his forehead, bruises on his chest and other scratches to his hands, wrist and forearms.
Forensic pathologist Dr Nathaniel Cary said that from the images and medical report, he believed many of the scratches could have been caused by another person's fingernails, possibly in a struggle, and that this had happened around the time Ms Pilley went missing.
He also said they were consistent with injuries he had seen in other cases involving strangulation.
However, he said it was difficult to tell because the injuries had been covered with a flesh-coloured substance.
Under questioning, he said some scratches could have been caused by gardening, and it was impossible to be certain of exactly how and when they had been inflicted.
The trial continues.