Forth Road Bridge emergency repairs scheduled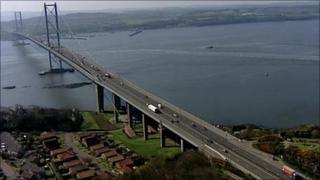 Emergency repair work is set to be carried out to the Forth Road Bridge after damage was found on nuts attached to the main cables.
Long delays are expected on the bridge while repair work is carried out on the weekend of 10 and 11 March.
Traffic will be down to a single lane in both directions from 03:00 until 12:00 on Saturday and Sunday.
The work was scheduled at short notice after an inspection found new damage on the nuts.
The faults were found on bolts securing the vertical hanger ropes to the bridge's main suspension cables.
Safety measure
Cracks had previously been found in a small number of the nuts during a routine inspection in 2007.
Bridge authorities said significant queues were expected to build during the repair work, particularly on Saturday after 09:00.
Barry Colford, chief engineer and bridgemaster, said: "Unfortunately these traffic restrictions are necessary for safety as we will be lifting an access cradle and other equipment onto the main cable above the carriageway."
He added: "Our advice is to take an alternative route, delay your journey or use public transport if you need to travel at these times."