Suzanne Pilley murder trial hears 'blackmail' claim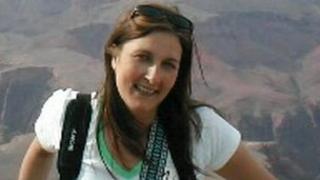 The Suzanne Pilley murder trial in Edinburgh has heard that the man accused of killing her told his boss that he felt she was blackmailing him.
Simon Peck, director of IML, where both David Gilroy and Ms Pilley worked, said Mr Gilroy had not elaborated on how she was blackmailing him or over what.
Mr Gilroy is accused of killing Ms Pilley either in Thistle Street or elsewhere in Scotland in May 2010.
He denies all the charges against him. Ms Pilley's body has never been found.
Giving evidence at the High Court in Edinburgh, Mr Peck said he also knew Mr Gilroy as a friend outside work. Both men worked at Infrastructure Managers Ltd, along with Ms Pilley.
He said he had been to meet the accused at his flat four days after Ms Pilley went missing.
Second meeting
Mr Peck described the meeting as "emotional" and said he hugged Mr Gilroy who then explained his affair with Ms Pilley.
He said Mr Gilroy had talked of spending about £8,000 on her during their relationship and of carrying out repairs on her flat.
Advocate depute Alex Prentice QC asked Mr Peck if he knew what was meant by the term blackmail and he answered "yes".
The prosecutor asked if there was any mention of anything of that nature and Mr Peck responded: "It did come up. Just that he felt he was being blackmailed by her."
He was questioned on whether Mr Gilroy had expressed any concerns for Ms Pilley.
Mr Peck replied: "Probably not as much as I thought he might bearing in mind the explanation he had given me about their relationship."
He told the court that at a second meeting five weeks later Mr Gilroy had seemed "different" and "combative", but not towards him.
He said the accused had told him 12 years of military training had helped him deal with the past few "difficult weeks".
Mr Gilroy denies fives charges including murder and attempting to defeat the ends of justice.
Ms Pilley was captured by CCTV cameras on buses, on the street and in a supermarket on the morning of 4 May 2010, the date she disappeared.
Ms Pilley was travelling to her city centre workplace but her colleagues never saw her arrive.
The trial before Lord Bracadale continues.