Wife of accused declines to give evidence at Suzanne Pilley trial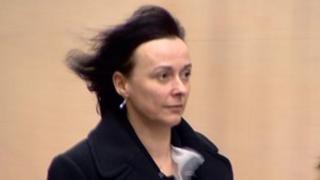 The wife of the man accused of murdering Edinburgh book-keeper Suzanne Pilley has declined to give evidence at his trial.
Andrea Gilroy was cited as a witness for the prosecution, but when she appeared in court the judge said she had the right not to give evidence.
After Mrs Gilroy told the High Court in Edinburgh she did not wish to do so, she was free to go.
David Gilroy denies all the charges against him. The trial continues.
Mr Gilroy denies seven charges including murder and attempting to defeat the ends of justice.
He is accused of killing Ms Pilley either in Thistle Street or elsewhere in Scotland.
Ms Pilley's body has never been found.
She was captured by cameras on buses, on the street and in a supermarket on the morning of 4 May 2010, the date she disappeared.
Ms Pilley was travelling to her city centre workplace but her colleagues never saw her arrive.