Cadaver dogs used in Suzanne Pilley murder probe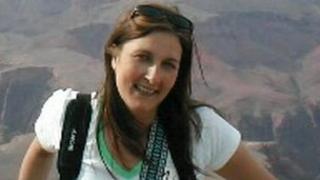 The Suzanne Pilley murder trial in Edinburgh has heard how police used dogs which had been specially trained to find evidence of dead bodies.
The cadaver dogs searched the offices where she worked with David Gilroy, who denies her murder.
The springer spaniels identified three areas of interest in the office's basement garage, and two areas in Mr Gilroy's car boot.
Ms Pilley's body has never been found. The trial is adjourned until Friday.
Defence lawyers said the large number of forensic tests which had been carried out had failed to find any substantial evidence linked to the accused.
David Gilroy, 49, denies seven charges including murder. He is accused of killing Ms Pilley either in Thistle Street or elsewhere in Scotland.
On Wednesday the jury retraced the last known movements of the missing Edinburgh woman.
It followed the route the 38-year-old took to her city centre office on the morning she disappeared on Tuesday 4 May, 2010.
The jury members were accompanied by Mr Gilroy, her former lover and work colleague.