Suzanne Pilley murder jury retraces last known steps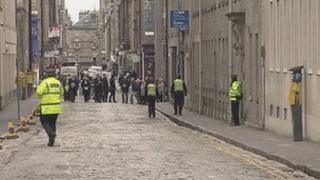 The jury in the Suzanne Pilley murder trial has retraced the last known movements of the missing Edinburgh woman.
It followed the route the 38-year-old took to her city centre office on the morning she disappeared on Tuesday 4 May, 2010.
The jury members were accompanied by David Gilroy, her former lover and work colleague, who denies her murder.
Ms Pilley's body has never been found. The trial continues.
Mr Gilroy, 49, is accused of killing Ms Pilley either in Thistle Street or elsewhere in Scotland.
The trial has already heard from a witness who believes he saw Ms Pilley on the short walk from Princes Street to her office.
The jury retraced Ms Pilley's last known steps, and also went inside the building and its garage.
They were taken along the route by Mark Heron, the Scottish Police Service Authority's senior scene examiner. They arrived at the bus stop beside Jenners in South St David Street at 14:00.
They then walked along one side of St Andrew Square before turning into Thistle Street. The tour finished at about 14:40.
Earlier on Wednesday, the High Court in Edinburgh heard how one of Ms Pilley's colleagues became concerned when she failed to turn up for work.
Helen Liddell said she sat opposite Ms Pilley at the IML offices in Thistle Street.
She said it was out of character for her colleague not to phone in if she was going to be late.
The court also heard that Mr Gilroy had been in the office on the day Ms Pilley disappeared, and had asked Ms Liddell if she was at work.
Mr Gilroy denies seven charges, including the murder of Ms Pilley.