ExxonMobil fined 'record' £2.8m over carbon dioxide emissions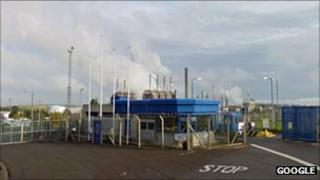 Energy giant ExxonMobil was fined £2.8m for failing to report carbon dioxide emissions from its Mosmorran chemical plant in Fife, it has emerged.
The Scottish Environment Protection Agency said there had been no direct environmental impact.
The fine, believed to be the biggest ever in the UK, dates to 2010 but the details have only just been published.
ExxonMobil said it regretted the errors, which were reported as soon as they were identified.
In its 2008 report to Sepa the company failed to account for 33,000 tonnes of carbon dioxide from its ethylene plant in Mosmorran and Sepa issued the fine in 2010.
Details only came to light in a report published by Sepa last week.
The agency said the penalty was a mandatory consequence of breaching the EU emissions trading scheme.
A spokesman for ExxonMobil, which describes itself as the world's largest publicly traded international oil and gas company, said the inaccuracies were identified by the company's internal systems and were immediately reported to the regulator.
He said: "In the past two years ExxonMobil Chemical Limited has made significant investments at Fife to reduce NOx and CO2 emissions.
"ExxonMobil regrets the errors relating to the reporting of greenhouse gas emissions under the European Union Emissions Trading System.
"ExxonMobil believes that the risks posed by rising greenhouse gas emissions to society are serious enough to warrant action - by individuals, by businesses and society."
'Big message'
Firms found to have misreported their greenhouse gas emissions can be fined 100 euros or £83 for every tonne they miss.
The money has been passed to the Scottish government to fund a series of environmental projects.
A Scottish government spokesman said: "Ministers accept that there was no intention to mislead and it was a genuine error. There are mandatory penalties in such cases and Sepa has done its job in applying them."
Sepa said the fine was a civil penalty and it was not required to carry out an investigation or report the matter to the procurator fiscal.
WWF Scotland's director Richard Dixon said: "You would assume that Exxon are now very careful to report the right data but this massive fine is a big message to others to get it right."