Guinea pig left for dead in rubbish bag in Edinburgh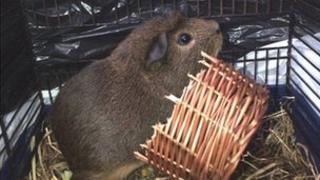 A guinea pig has been rescued after being tied inside a bin bag and left to die in Edinburgh.
A shop owner called the animal welfare charity for help after she found the pet on Dalry Road on Wednesday.
She spotted a woman leaving a black plastic bag beside a bin. On investigating, she found the guinea pig in a cage inside.
Staff at the Scottish SPCA's Edinburgh and Lothians Centre in Balerno are now caring for the brown short haired male.
He has been named Arthur.
'Particularly callous'
Jeni Wright, of the Scottish SPCA, said: "This was a deliberate act of animal cruelty and we are appealing to the public for information to help us find the person responsible."
The woman who dumped the pet was between 40 and 50 years old, with black, curled hair and was wearing a red coat.
Ms Wright added: "Abandoning an animal under any circumstances is wrong. However, to dump Arthur like a piece of rubbish and leave him there to die is particularly callous.
"His cage was extremely small, around the size of an A4 piece of paper, and this alone would have been distressing for him.
"It's very lucky he was found as he wouldn't have survived for long inside the bag and it's likely it would have been disposed of when the bins were emptied."