Call for review into Edinburgh Zoo financial controls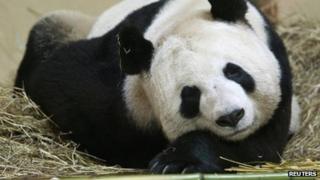 Edinburgh Zoo has been told to conduct a full review of its financial controls following an inquiry into complaints over how it has been run.
A report by The Office of the Scottish Charity Regulator (OSCR) cleared the Royal Zoological Society of Scotland of any misconduct.
However, it found "areas of governance that could be improved".
It follows complaints from animal welfare charities over the viability of the 10-year lease of two giant pandas.
Last year the then acting zoo chief executive Gary Wilson and senior official Iain Valentine were suspended.
However they were later both reinstated after the zoo found they had been subjected to "a deeply unpleasant and malicious smear campaign by person or persons unknown".
The report found the zoo needs to tighten its practices and review its disciplinary procedures.
Royal Zoological Society of Scotland chairman Manus Fullerton said: "The Office of the Scottish Charity Regulator has now concluded its inquiry into the Royal Zoological Society of Scotland following a number of complaints made in 2011 relating to the deployment of policy, procedure and practice.
"We are pleased to report that none of the complaints has been upheld and that OSCR is satisfied that trustees have acted with appropriate care and diligence and in the best interests of the society.
"OSCR has made a number of recommendations in relation to internal controls and governance.
"It acknowledges the trustees had already started work on implementing changes covered by their recommendations prior to the inquiry.
"Policies relating to financial procedures, procurement and contract management have been reviewed and significant steps taken to strengthen management controls."
'Past weaknesses'
The OSCR report said: "It is clear from the evidence presented during the course of our inquiries that there have been past weaknesses with respect to the level of overall control exerted by the charity trustees over the senior management team.
"A symptom of this was the lack of full and consistent deployment of key policies, procedures and good practice across the society which was manifested in an apparent lack of understanding and/or compliance with these across the organisation.
"However, the charity trustees have already undertaken considerable work to identify areas that need to be strengthened and are taking appropriate action to address the weaknesses."
John Robins, of Animal Concern said: "I still maintain that the extremely high costs involved in leasing and caring for two giant pandas (plus any possible offspring) will prove too expensive for Edinburgh Zoo just as it has for several other zoos around the world which took exactly the same foolish financial flutter in an attempt to gamble their way out of a cash crisis.
"Time will tell if I am right."
The pandas Yang Guang and Tian Tian arrived from China on 4 December.