Occupy Edinburgh protesters leave Meadows camp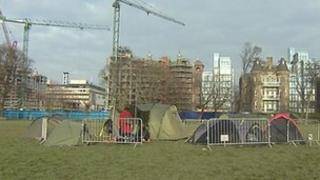 Anti-capitalist protesters who set up a camp on part of The Meadows in Edinburgh have ended their occupation.
The city council went to Edinburgh Sheriff Court last week in a bid to have the Occupy Edinburgh group evicted.
The protesters had asked for more time to obtain legal advice.
At the latest hearing, the sheriff dismissed the action after being told the protesters had left with their tents and their belongings.
Solicitor for the council, Fiona Reid, told Sheriff Elizabeth Jarvie QC that the occupiers had gone from The Meadows and asked that the action be dismissed.
Occupy Edinburgh's representative, William Black, agreed with the motion.
Outside the court, Mr Black said: "Removal of the camp does not mean Occupy Edinburgh is away.
"We will now prepare for spring and summer and get our message across by occupying and by other means.
"We will be going out to the communities of Edinburgh carrying our message and involving these communities in the Occupy movement. The fight goes on."
The protesters had originally set up camp in St Andrew Square in the city centre, but moved last month ahead of a forced eviction.
That camp had lasted more than 100 days.