Edinburgh Science Festival reveals programme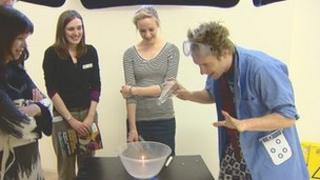 The mechanics of "dad dancing" and clothes that clean the air are two of the subjects which will be tackled at this year's Edinburgh Science Festival.
In the Olympic year, the two-week long festival will also take an in-depth look at the science of human physical activity.
The festival runs from 30 March to 15 April.
Ahead of the festival an associated photography exhibition has opened in St Andrew Square.
It features biomedical imaging and astronomy, subjects not normally visible to the human eye.
The Science Festival's flagship production InMotion, which will be held at the National Museum of Scotland, will explore subjects from fitness and power, to the science and aesthetics of movement.
Embarrassing dads
It is described as a celebration of human movement and performance in relation to sport, technology and dance.
And for men who have embarrassed their children by their antics on the dance floor, the science of "dad dancing" will be revealed in "the dancing brain", as the results of a national study into this phenomenon are revealed.
Environment and climate change are also tackled through topics which range from catalytic clothing to food security.
Dr Simon Gage, director of the Edinburgh International Science Festival, said "Laugh about it, dance about it, dream about it or simply talk about it, we've never had such a variety of ways of soaking up hundreds of new ideas that spin from the birth of stars via dad dancing to maths comedy.
"For two weeks in April Edinburgh will become one of the world's greatest playgrounds for the restlessly curious."