Samsung wind turbine project to create 500 jobs in Fife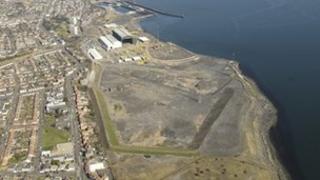 More than 500 jobs could be created in Fife through a £100m project to develop a new generation wind turbine.
Korean giant Samsung Heavy Industries (SHI) is to base its first European offshore wind project in Methil.
The firm plans to test its new, more powerful 7MW turbine offshore at Methil before starting to take orders to build them at the site.
It has also signed a deal with David Brown Gear Systems to use its gearbox systems in the new wind turbine.
First Minister Alex Salmond said: "I am extremely pleased to welcome this inward investment by Samsung Heavy Industries, which further reinforces Scotland's place in the development of the next generation of offshore wind turbines.
"Their choice of Scotland as their first base in Europe for renewable technology development is testament to the fact this country is fast becoming the European centre for research and development in new offshore wind technologies.
"For Methil to be chosen as the test site for Samsung Heavy Industries' new 7MW wind turbine is another example of this country's ability to secure investment from global multinationals."
Insik Roh, CEO of Samsung Heavy Industries, said: "We are pleased to be participating in the development of the Energy Park at Methil at such an exciting time for the Scottish renewable energy industry.
"The testing of the new 7MW offshore wind turbine at the Fife Energy Park signifies a milestone in the development of Samsung's new wind turbine generator system.
"We hope to contribute to the Scottish economy through successful testing and certification of our cutting-edge offshore wind turbine, and ultimately through establishment of our manufacturing facility here in Methil."
Dr Richard Dixon, director of WWF Scotland, said: "While other parts of the economy are sluggish or even going backwards, the renewables industry is going from strength to strength.
"This investment will create jobs and help reduce carbon emissions, making it excellent news for Fife, for Scotland and for the environment."