Solution for radioactive Dalgety Bay beach 'no closer'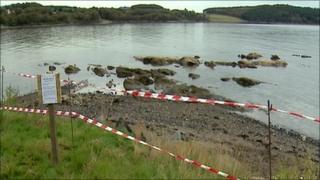 A solution to radioactive contamination on a Fife beach appears to be no closer following an announcement from the Ministry of Defence.
It had been given until the end of the month to prepare a draft plan to tackle the problem of radioactive particles on the shore at Dalgety Bay.
UK defence minister Andrew Robathan said they were continuing to work on a credible plan but gave no details.
The radiation is thought to be linked to remains of World War II aircraft.
He also said the MoD was working in a voluntary capacity with the Scottish Environment Protection Agency (Sepa) and did not at present accept full liability for the problem.
'Willing to help'
The Tory MP said: "Who knows who's liable. We're not denying liability but I think we need to be quite clear how this contamination has come about.
"For instance, there has been industrial sites. I understand there has been a ship-breaking yard just down the way.
"There's been earth movement which of course has disturbed a great deal of stuff. There's been housing estates built.
"We don't say that we are not in any way willing to help. We are willing to help. But I don't think you would expect us to accept liability before we know exactly what the situation is.
"We are therefore looking at this and we are willing to co-operate with the environment protection agency and others to find exactly what the situation is and then we can determine who is responsible for clearing it up, if there is a need to clear it up."
Former Prime Minister, Gordon Brown said: "I am concerned that the language being used by the minister suggests that the MoD involvement is purely on a voluntary basis."
The Labour MP said: "I want to make clear that the MoD have a responsibility for this situation and I am clear that they have duty to take whatever steps are necessary to make the area safe and secure."
SNP MSP Annabelle Ewing said she was disappointed the Ministry of Defence was not taking responsibility for remedial action.
She said: "This is a hugely disappointing development not only for the people of Fife but for the people of Scotland.
"The MoD must accept full responsibility for cleaning up all radioactive material at Dalgety Bay."
She added: "The MoD doesn't appear to be treating this situation as seriously as it should. It needs to accept liability, work with Sepa on a remediation plan and make Dalgety Bay the safe place it should be."
Over the past few months more than 200 radioactive particles have been found and part of the shore was cordoned off in October for further investigation.
Dalgety Bay hosted a wartime airfield, where many aircraft were dismantled.
They were used as landfill and it is thought erosion has led to radioactive radium from the aircraft dials leaking on to the foreshore.
After a meeting between Sepa, the MoD and members of the local community in November, Sepa said it wanted a draft of the MoD's plan for the site by the end of January, with a final set of plans by the end of February.
"If that isn't forthcoming, Sepa will continue with its progress to designate the land as contaminated by the end of March," a spokesman said.
If Sepa did declare the area as "Radioactive Contaminated Land", it is understood this would be the first time it has happened in the UK.
Sepa said it was optimistic it would receive a draft of the plans but it was still yet to receive them.
Chairman of Dalgety Bay and Hillend Community Council Colin McPhail said this was the last thing residents wanted.
He told BBC Radio Scotland's Good Morning Scotland programme: "It's a requirement certainly and responsibility of the Ministry of Defence on a voluntary basis to come up, to solve this problem and carry out remedial works and solve it once and for all - and that should be this year."
MoD representatives also met with Sepa, the Scottish government and members of the Dalgety Bay Forum in November, describing the talks as "constructive".