Tartan marks pandas' Edinburgh Zoo arrival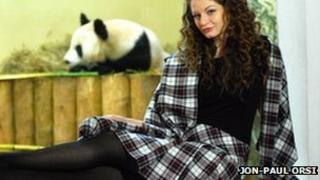 A special tartan commissioned to mark the arrival of two pandas in the UK has been unveiled at Edinburgh Zoo.
Tian Tian and Yang Guang jetted into the capital on a specially chartered flight from China on 4 December 2011.
Edinburgh Zoo asked local company Kinloch Anderson to create tartan in their honour.
The design features black, white and a little grey to reflect the colour of the pandas' fur, green for bamboo and three red lines to represent China.
It was unveiled at the zoo to tie in with Burns Night on Wednesday and Chinese New Year on Monday.
Meaningful background
Deirdre Kinloch Anderson, senior director at the tartan firm, said: "Tartan is one of Scotland's greatest icons.
"Careful attention was given to create a tartan with a meaningful background, with relevance both to the zoo and also to China - and importantly a tartan that people find attractive.
"We hope that this tartan will 'fly the flag for Scotland'."
She said the three red lines are at the heart of the design to indicate that the pandas are in the hearts and minds of the Scottish and Chinese people, while three is China's lucky number.
The design is also based on the Gillespie tartan as the Royal Zoological Society of Scotland, which operates the zoo, was founded by the Edinburgh lawyer Thomas Gillespie in 1909.
The tartan has been approved by the Scottish Registrar of Tartans.
Hugh Roberts, chief executive of Edinburgh Zoo, said: "This significant and highly exciting project symbolically demonstrates the coming together of Scotland and China's heritage and culture - making it the perfect way to commemorate the gift of two giant pandas that China bestowed upon Scotland.
"Its unveiling on the overlap of two separate culturally significant days for both China and Scotland feels very appropriate and auspicious timing."
The pandas, an eight-year-old breeding pair, will stay in Edinburgh for at least 10 years.