Law merger forms 'formidable force'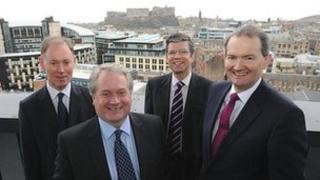 Scottish legal firm Fyfe Ireland is merging with Tods Murray, it has announced.
Fyfe Ireland partners, Greig Honeyman and Drew Taylor, along with eight solicitors and six support staff have joined Tods Murray.
The combined firm will be known as Tods Murray with offices in Edinburgh and Glasgow.
The partners said their combined strengths formed "a formidable force in the marketplace".
David Dunsire, executive partner for Tods Murray said: "Tods Murray is committed to remaining a leading full service Scottish law firm and part of this strategy is to grow our private client team.
"Fyfe Ireland is a prestigious, niche player in the legal marketplace with a long and distinguished history of putting the client at the heart of everything they do whilst providing a quality service.
"This ethos fits extremely well with our own culture."
Mr Honeyman said: "I have heard it said that to succeed you must react faster to a client's problem than the client can themselves.
"By combining our strengths with those of Tods Murray and indeed bringing our clients to Tods Murray, we will have the ability to provide the fulsome - and immediate - response that is needed in a modern, and at the moment difficult, economy.
"This is an exciting move that will create a private client and family business team that aspires to lead the way in client engagement and technical standards."