Slime helps Edinburgh zoo panda recover from colic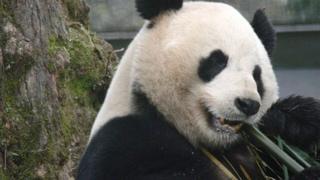 Edinburgh Zoo's male panda is steadily improving after his bout of colic, according to zoo bosses.
Yang Guang was taken off public display last week after he became unwell.
The eight-year-old and his breeding partner Tian Tia - the first giant pandas to live in the UK for 17 years - arrived in the capital at the start of December.
Over the weekend he passed a mucus plug, known as panda slime, and his energy levels have since risen.
Simon Girling, head of veterinary services at Edinburgh Zoo, said: "A clear jelly like pellet, panda slime often goes hand-in-hand with panda colic and is produced in the bear's large intestines to help ease the irritation of colic.
"Immediately he seemed much brighter and more active, which is a good sign, and he began to eat large quantities of bamboo. We wouldn't be surprised if Yang Guang expels more panda slime soon, before he totally gets back on his feet.
He added: "No-one knows what causes panda colic, much as in human babies.
"We will continue to monitor him closely, administer medication and make sure he gets plenty of rest."
Between enclosures
Zoo staff said it had been "lovely" to hear how concerned everyone has been about Yang Guang.
Iain Valentine, director of research and conservation, said: "It really shows how much he's been taken to the hearts of the people of Scotland, the UK and even around the world."
The panda is expected to be off show from the public for at least two or three more days.
Mr Valentine added: "We'll all be really delighted when he's back to his old self, even Tian Tian, as she's been spotted going up to the grid between their two outdoor enclosures to look for Yang Guang."
The pair will stay in the capital for 10 years. It is hoped they will eventually produce cubs.