Royal Yacht Britannia's leaking door fixed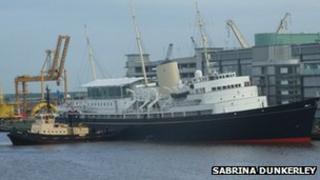 A door seal which leaked and left the Royal Yacht Britannia tilting has been fixed, officials have confirmed.
Fire crews in Edinburgh were called to the ship on Friday after it started taking on water and listing on its starboard side.
It happened during an operation to move the vessel, for the first time in 14 years, to a dry dock for painting.
The water was pumped from the ship and it was moved, several hours later, to the dry dock in the Port of Leith.
Now, six days on, officials said work on the yacht had been progressing "very well".
The hull has been power-washed to remove the barnacles and is now ready for the three coats of paint which will protect it for years to come.
Bosses of the ship, which is a tourist attraction in Edinburgh, believe they will not need to bring the ship back on to dry land again for another two decades.
Bob Downie, Britannia chief executive, said: "We are very pleased with the progress that has been made in the dry dock and with the weather being so favourable, the works have proceeded much quicker than we could ever have anticipated.
"More importantly, the marine surveyors have advised us that the hull is in a great condition and there is no reason to dry-dock Britannia again for at least another 20 years.
"Before Britannia leaves dry dock next week, a full inclination test will be undertaken and the ship's ballast adjusted accordingly to ensure there is no repeat of the listing problem that occurred last week.
"The faulty watertight door seal has also been rectified.
"An announcement will be made next week as to when Britannia reopens but there is a good chance that it will be earlier than 1 February, as was originally the case."
The yacht served the Queen for 44 years, carrying her and the Royal Family on 968 official voyages before being taken out of service in 1997.
In July, the Queen's grand-daughter Zara Phillips and England rugby star Mike Tindall hosted a pre-wedding party on board the vessel, which was attended by Princes William and Harry and the Duchess of Cambridge.