William Wallace letter returns to Scotland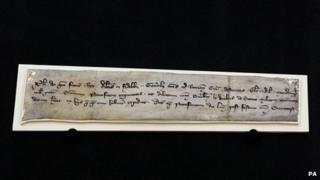 A 700-year-old letter thought to have been in the possession of William Wallace has returned to Scotland.
The fragile document was held in England after it came to light in the Tower of London in the 1830s.
It is now on long-term loan to the National Records of Scotland following an agreement with the National Archives in Kew.
The letter will go on display to the public this summer at the Scottish Parliament in Edinburgh.
The letter, which was from King Philip of France to his officials at the Vatican, mentions Wallace by name.
It will be exhibited alongside the famous Lubeck letter, sent by Wallace shortly after the Battle of Stirling Bridge in 1297.
'Fascinating fragment'
Culture Secretary Fiona Hyslop said: "I am delighted to welcome the Wallace letter back to Scotland.
"It is one of the few surviving artefacts with a direct link to William Wallace and a fascinating fragment of our nation's history.
"To have it here in Scotland, where it can be viewed by the Scottish public, is very significant indeed."
The letter from the French king asks his agents in Rome to help Wallace in business with Pope Boniface VIII.
It also strongly suggests Wallace intended to travel to Rome, although it is not known if he reached his destination.
The paperwork has puzzled historians and aroused speculation about its origins and precise link to Wallace.
Last year, an international team of medieval experts concluded the letter was French, was issued on 7 November, 1300, and was likely to have been in Wallace's possession.
George MacKenzie, head of National Records of Scotland, said: "This document is an enigma.
"It's a letter from the French king to his officials at the Vatican mentioning Wallace, but we don't know what his business was with the Pope.
"What we do know is that the document still fascinates, 700 years after it was written."
Its return to Scotland follows a campaign by the Society of William Wallace.
National Records of Scotland has agreed to borrow the letter from 2012 to 2014, and it will go on display in both years.
Officials are discussing means of allowing the document to be housed in Scotland in the longer term.
The fragile document can only go on display under controlled lighting for a limited period every few years.
Duncan Fenton, of the Society of William Wallace, said: "We have been campaigning for years for this letter to be returned to Scotland and this is a fantastic result - not just for us, but for the Scottish people who will be able to see this document with their own eyes and feel a connection to William Wallace.
"We do not have a lot of tangible links with Wallace as most of the documentation has been destroyed, so to have something that Wallace actually touched is a massive boost for Scotland."
The free exhibition will run from August 10 to 31 at the Scottish Parliament in Edinburgh.