Olympic body to decide on rings bid for Hillend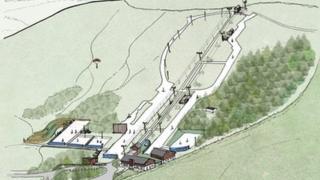 The Government Olympic Executive is to decide whether huge Olympic rings will be mounted on a hill in the Pentlands beside Britain's longest dry ski slope.
It follows a plea from Midlothian's Provost to 2012 Games chief Lord Coe to site the rings at the Midlothian Snowsports Centre at Hillend.
The rings would be visible from Edinburgh, West Lothian, Fife and East Lothian as well as from aeroplanes.
Plans to erect the rings on Edinburgh Castle were thrown out last year.
In a letter to the Provost Adam Montgomery, Lord Coe said the request had been passed on to the Government Olympic Executive (GOE).
Mr Montgomery said: "The history of Olympians training at Midlothian Snowsports Centre and the thousands of people who see Hillend on a daily basis make the centre such an ideal location for the rings.
"I'm delighted the proposal is now with the Government Olympic Executive and look forward to the outcome of their decision."
It comes as the ski slope is set to have a £500,000 revamp including an extra 210-metre piste and a new nursery slope.
It will also have new, safer ski matting at its existing nursery slope, snowtubing runs and two new lifts.
Sportscotland, the national agency for sport, has provided the funding.
The centre had been threatened with closure after Midlothian Council said it could no longer afford to fund it.
Last year Sportscotland and the Scottish government stepped in with £1m of funding to secure the site's future.
The fight to save the centre, also known as the Hillend ski slope, was the focus of an internet campaign supported by more than 27,000 people.