Edinburgh marks 1,000th liver and kidney transplants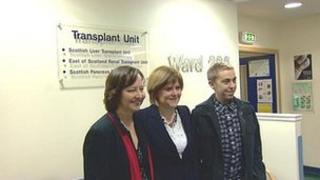 The 1,000th liver and kidney transplant operations have been marked at a Scottish unit in Edinburgh.
Fraser Sneddon and Lesley Ross became the 1,000th patients for the procedures at the Scottish Liver Transplant Unit, based at Edinburgh Royal Infirmary.
The first milestone was met after Mr Sneddon, 25, had a liver transplant.
Ms Ross, 49, was the 1,000th patient to receive a kidney since the kidney transplant service transferred from the Western General Hospital in 1995.
The Scottish Liver Transplant Unit, based at the hospital, is to receive £888k of Scottish government funding to increase the number of liver operations it is able to carry out.
It is a national service commissioned by National Services Division and based at Edinburgh Royal Infirmary.
Rapidly deteriorate
Mr Sneddon, from Kirkcaldy in Fife, was born with a congenital liver defect.
He was put on the transplant waiting list in November when his health began to rapidly deteriorate, and within three weeks a positive match had been found.
He said: "This year is going to be amazing. I am going to really be able to enjoy it. I actually feel better already.
"I have always wanted a normal life and now I can have it. I had a super Christmas and now I am looking forward to a new start and a new year.
"I want to have a nine-to-five job, without worrying about how I look. I want to go on holiday and then one day I hope to get married and have kids."
Fraser was born with the congenital liver defect biliary atresia, and when he was just six- weeks-old he underwent an operation to correct the problem.
It was only when he turned 17 he hit a "difficult patch". He began to feel unwell and his health began to deteriorate.
His skin became more jaundiced and he became self conscious of his appearance, wearing hats and dark glasses and often only going out at night.
His operation took 10 hours.
He said: "I will always be grateful to the organ donor and their family who took the selfless decision to donate and make this transplant possible for me."
Mother-of-two Ms Ross, from Edinburgh, was donated a kidney by her brother.
The paediatric consultant was diagnosed with the genetic condition polycystic kidney disease.
Her family underwent tests to see if they were a positive match for blood and tissue type and her brother Duncan Williams, 51, was a match.
He flew back to Scotland from his home in New Zealand, with his wife Ruth and 18-month-old son Matthew, for the operation.
Then within eight weeks he was able to return to his family.
Ms Ross said: "I never had to ask any of my family. My brother did not hesitate and came forward very quickly to become a living donor.
"It has made a huge difference to my life and to the lives of my children and family as well. I have so much more energy now."