Plane hit by bus shelter during storm at Edinburgh Airport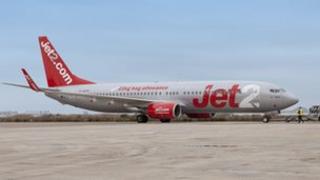 An investigation has been launched after a plane was hit by a bus shelter which was blown over a fence at Edinburgh Airport.
The parked Jet2 737 was damaged in the incident, which took place during the gale force winds which struck Scotland on Tuesday morning.
The Met Office recorded a wind speed of 102mph in Edinburgh during the storm.
Edinburgh Airport said it was working with Jet2 to avoid a repeat of the incident.
A spokesman for the airport said the bus shelter had been sheared in half before it was blown towards the plane.
"We have now launched an investigation," he said.
A Jet2 spokeswoman said: "A Jet2.com aircraft was damaged on Tuesday as a result of the extreme weather conditions in Scotland.
"Fortunately there were no injuries, the damage to the aircraft was minimal and normal services have resumed."
Extensive damage
Meanwhile, a number of leisure facilities in Edinburgh and the Lothians are still being affected by the after-effects of the storm.
On Wednesday, 24 ski schools were cancelled at the Midlothian Snowsports Centre at Hillend after it was closed by a power cut during the gales.
Kirkliston Leisure Centre on the outskirts of Edinburgh has been closed "for the foreseeable future" due to extensive damage to its roof, which will need to be replaced.
The gym at Warrender Swim Centre is partially open.
Leith Waterworld - which was closed on Tuesday due to storm damage - has now reopened in time for its final weekend. It is being sold off to help fund the £37m redevelopment of the Royal Commonwealth Pool.
The climbing centre at the EICA:Ratho was closed after its roof was damaged, but half of its climbing area has now reopened.