Veteran cooper leaves Glenfiddich distillery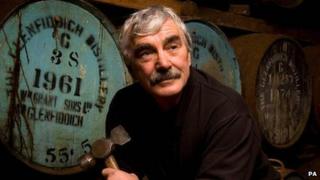 The longest-serving cooper in Scotland is to lay down his tools for the last time on Hogmanay.
Don Ramsay started working in the Glenfiddich distillery on Christmas Day 1961, when he was 15.
His employers said he has created more than 200,000 casks during his 50-year career.
The distillery honoured him in 2004 by releasing a limited bottling of Glenfiddich 1991 Vintage Reserve which carried his name.
It was the only time the company has created a whisky carrying the name and story of one of its employees.
Elizabeth Lafferty, a spokeswoman for Glenfiddich, said: "It has been an immense pleasure to work with Don.
"Not only is he a true craftsman, he has played an important role in inspiring a new generation of coopers and has also helped us to demonstrate the skills that go into making our single malt whisky by giving coopering demonstrations around the globe."
Mr Ramsay started working at Glenfiddich exactly 74 years after whisky was first distilled there.
He said: "I have spent my entire working life at Glenfiddich and it will be very strange not coming here any longer."
To mark his retirement, he was presented with a specially-created miniature cask filled with whisky and a coffee table crafted with cask staves.