Residents rescued from fire at Edinburgh flats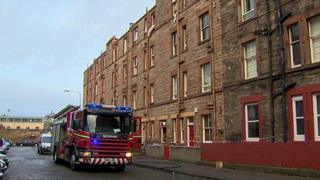 Fire crews have rescued 12 people from a block of flats in Edinburgh's Smithfield Street.
Almost 40 firefighters attended the blaze which broke out in a first floor flat on Saturday.
Emergency services said five people were taken to Edinburgh Royal Infirmary suffering from smoke inhalation. One of the crew was treated for heat stress.
An investigation into the cause of the fire is being carried out, but it is not thought to have been suspicious.