Edinburgh councillors vote to close Leith Waterworld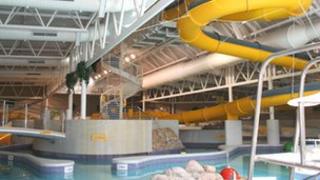 Campaigners have told how "disappointed and astonished" they are after Leith Waterworld's closure date was confirmed.
The city's only swimming pool with flumes will close on 8 January.
It is being sold off to help fund the £37m redevelopment of the Royal Commonwealth Pool.
Edinburgh councillors voted to close the pool, which has been making an annual loss of £350,000. It also needs £2m worth of upgrade repairs.
Following a number of notes of interest over the last six months, the council has now set a closing date of 8 February.
The Royal Commonwealth Pool is due to reopen in March.
'Extremely concerned'
The council said that by losing the annual £350,000 debt from Leith Waterworld they could borrow £5.5m towards the Royal Commonwealth Pool's refurbishment.
A spokeswoman for Splashback, the campaign group against the closure of Leith Waterworld, said: "We are very disappointed and astonished that the council have not been able to meet their commitment to the people of Edinburgh to keep Leith Waterworld open until the Royal Commonwealth Pool is fully reopened to the public.
"We are extremely concerned that the administration have not followed due process, particularly in relation to fostering equality in the city.
"This is the not the end. We will continue to oppose this closure until the doors are locked."
The vote at the Edinburgh City Chambers saw 55 councillors vote to close the pool, compared to three who voted to keep it open.
Deidre Brock, Edinburgh City Council's culture and leisure convener, said: "Council's near-unanimous support for this amendment means that Leith Waterworld will close as planned on 8 January 2012.
"I know the Splashback campaign will be very disappointed with this outcome, but ultimately it was the only possible course of action, both financially and logistically.
"We hope that people will make good use of the other excellent swimming opportunities available in Leith, at Leith Victoria Swim Centre and the pool at Leith Academy, as well as enjoying again the completely refurbished Royal Commonwealth Pool from March 2012."