Theresa Riggi moved to psychiatric hospital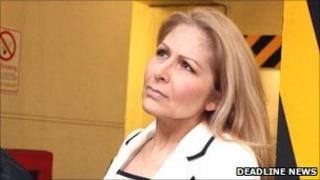 A mother who was jailed for killing her three children has been moved to a psychiatric hospital.
Theresa Riggi is serving 16 years in jail for killing her three children at their Edinburgh flat in August 2010.
The 47-year-old has allegedly been attacked twice at Cornton Vale prison in the last few weeks.
A Scottish Prison Service spokesman said it does not comment on individual prisoners "whether they are in their care or not."
Riggi had moved to Edinburgh from Skene in Aberdeenshire following the break-up of her marriage to the children's father, Pasquale Riggi, 47.
She stabbed her three children to death over fears she would lose them to her husband in a custody battle.
The youngsters' bodies were found lying side by side at Riggi's flat in Slateford Road, Edinburgh, following a gas explosion at the building.
Each child had eight stab wounds and multiple abrasions and bruises.
California-born Riggi was found badly injured after plunging from a second-floor balcony in an apparent suicide bid.
She also had stab wounds which were believed to have been self-inflicted.
She was initially charged with murder but later jailed for 16 years after admitting culpable homicide on the grounds of diminished responsibility.
Judge Lord Bracadale described the killings as "truly disturbing" and "grotesque".