Afghanistan death soldier was 'searching for kit'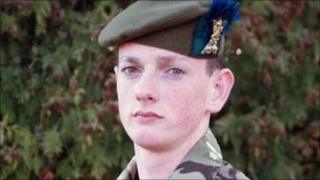 A young soldier was executed by the Taliban in Afghanistan after leaving his checkpoint to look for missing kit, an inquest has heard.
Highlander Scott McLaren, from Edinburgh, left the safety of his base in the middle of the night to go to find a pair of night-vision goggles.
The 20-year-old, whose body was found on 4 July, was captured, before being tortured and shot in the head.
The inquest, in Wiltshire, recorded a verdict of unlawful killing.
Mr McLaren, of the 4th Battalion, the Royal Regiment of Scotland, went to retrieve the goggles, which had been left by another soldier at a vehicle checkpoint.
However, the inquest was told that, when he left his checkpoint, he did not cross a bridge over a canal to get to the checkpoint, but instead was caught on CCTV heading in the opposite direction.
Wiltshire and Swindon Coroner David Ridley said it would remain a mystery as to what the soldier was doing that night.
Mr Ridley said: "In relation to the time, place and circumstances, the evidence has been consistent in the events leading up to 4 July and what happened that morning."
"Strictly speaking, it is not part of my responsibility to determine why Scott left the checkpoint that morning because the remit of my inquiry is narrow."
Mr Ridley added: "Quite clearly, Scott was concerned as regards the missing goggles and talked of going back to the checkpoint on the northern side of the canal where they were last seen.
"But the fact, quite clearly on the evidence and in particular the CCTV imagery, points quite clearly to Scott heading in the direction of the bridge but he never crosses the bridge and heads off in an entirely different direction.
"It is unclear what Scott was doing that night and sadly the only person who could help us is no longer with us."
Mr Ridley concluded: "I am satisfied beyond reasonable doubt that Scott was captured by insurgent forces and ultimately was executed by insurgent forces on the morning of 4 July."