Lifts out of service at shaft fall school Liberton High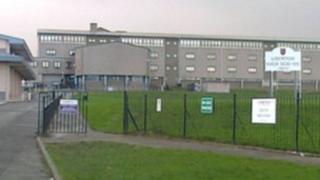 Two lifts at an Edinburgh school where a pupil fell 15ft down a shaft have been put out of service until they have been fully checked by engineers.
A 15-year-old girl fell into the lift shaft at Liberton High School at 09:54 on Thursday.
Firefighters managed to pull her free after 30 minutes. She was taken to Edinburgh Royal Infirmary with back injuries.
The headteacher is writing to parents to inform them about the incident.
An investigation into the incident is under way and Edinburgh City Council said it was "cooperating fully" with the Health and Safety Executive."
Stopped between floors
It is understood that the girl was one of a number of pupils in the lift when it become stuck between floors.
It is believed that the doors were opened in an effort to pull people from the lift, and that it was during this process that the teenager fell.
It is not known why the lift stopped between floors.
Meanwhile, Lothian and Borders Fire and Rescue Service said it was called to four incidents of people being stuck in lifts due to power failures during the high winds on Thursday.