Woman accused of Theresa Riggi slashing in Cornton Vale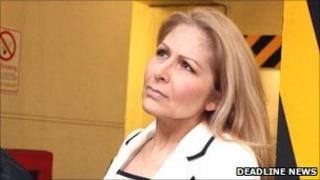 A 39-year-old female prisoner has been charged with assaulting child killer Theresa Riggi by allegedly slashing her face in jail.
Riggi, 47, is serving 16 years in jail for killing her three young children at their flat in Edinburgh in August 2010.
She was said to have been left badly injured by the attack in Cornton Vale prison, near Stirling, on 19 November.
It is thought the attacker, who herself is said to be in jail for violent offences, used a broken razor.
A Central Scotland Police spokeswoman said: "A 39-year-old woman has been charged with assault to injury."
A report on the prisoner is to be sent to the procurator fiscal.
The police move comes just days after a 22-year-old woman in the prison was charged with assaulting Riggi, after she was allegedly thrown down a flight of stairs.
Riggi had moved to Edinburgh from Skene in Aberdeenshire following the break-up of her marriage to the children's father, Pasquale Riggi, 47.
She stabbed her three children to death over fears she would lose the kids to her husband in a custody battle.
The youngsters' bodies were found lying side by side at Riggi's flat in Slateford Road, Edinburgh, following a gas explosion at the building.
Each child had eight stab wounds and multiple abrasions and bruises.
California-born Riggi was found badly injured after plunging from a second-floor balcony in an apparent suicide bid.
She also had stab wounds which were believed to have been self-inflicted.
She was initially charged with murder but later jailed for 16 years after admitting culpable homicide on the grounds of diminished responsibility.
Judge Lord Bracadale described the killings as "truly disturbing" and "grotesque".