Andrew Bradshaw jailed for schoolboy sex attack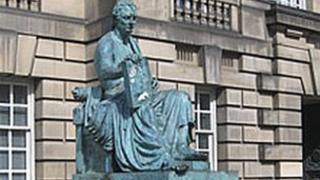 A learning assistant at a school in Edinburgh has been jailed for four years for sexually assaulting a vulnerable schoolboy.
Andrew Bradshaw, 54, had agreed with the 15-year-old boy's mother to take him on a trip to Dunbar, East Lothian.
Instead he took him home, made him watch a sex education programme then sexually assaulting the boy, who has learning difficulties.
Bradshaw admitted engaging in sexual activity with the child on 29 July.
He was also put on the sex offenders register.
A judge at the High Court in Edinburgh told Bradshaw: "You have pled guilty to an extremely serious offence in which you engaged in sexual activity with a vulnerable boy."
Lord Pentland told him that the sex crime involved "some degree of planning and preparation" on Bradshaw's part at a time when he held a post of "considerable trust".
'Wracked with guilt'
He pointed out that instead of taking the victim to Dunbar, in East Lothian, as he had agreed with the child's mother, he went to his own home in Tranent, East Lothian with him.
The judge said Bradshaw would have faced a six-year prison sentence but for his guilty plea in the case.
The court earlier heard that Bradshaw took an overdose of aspirins and ended up in hospital because he was "wracked with guilt" before a previous scheduled court appearance.
Advocate depute Alison Di Rollo told the court that the first offender had been employed as a learning assistant for 15 years.
Ms Di Rollo said Bradshaw conceded that his actions were wrong and that "this incident was in no way an accident".
Defence solicitor advocate David Allan said: "He regrets his behaviour. He understands a custodial sentence is inevitable because of the nature of the offence."
"He has asked me, for what it is worth, in open court to apologise to the victim and the victim's family for his behaviour."