Four sacked after Edinburgh housing repairs probe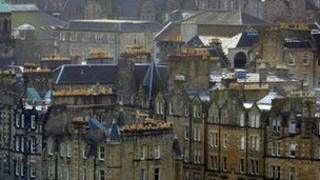 Four members of staff at Edinburgh City Council have been dismissed over an alleged multi-million pound housing repair scam, BBC Scotland has learned.
It is understood the workers were sacked after an internal investigation into the way contracts were awarded for work relating to property maintenance.
When the allegations came to light last year, at least 15 staff were suspended.
About 500 people have also complained about statutory notices with concerns including costs and unnecessary work.
The council said it would investigate all outstanding 513 disputes, which include alleged bribery, overcharging, unnecessary and poor quality work.
Edinburgh City Council uses a system of statutory notices to ensure essential repairs are carried out on its historic tenements.
Under the statutory notice system, Edinburgh City Council can intervene to organise repair work on private properties when the owners of shared buildings cannot reach agreement.
It is the only city in the UK where council surveyors can arrange the work through approved contractors and recoup the cash from owners.
The local authority also receives 15% of the final bill.
The value of statutory notices issued by council surveyors has increased dramatically in recent years, from £9.2m in 2005 to more than £30m in 2010
Independent investigations by Deloitte, ordered by the council, and the fraud unit at Lothian and Borders Police are also currently under way.