Leith Waterworld to close in January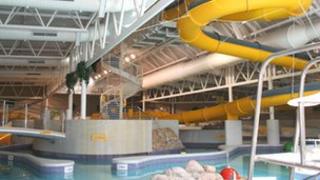 Leith Waterworld is to be closed down in January, leisure officials in Edinburgh have confirmed.
The only swimming pool with flumes in the city is being sold off to help fund the £37m redevelopment of the Royal Commonwealth Pool.
Edinburgh City Council said the Easter Road facility was "extremely costly to run" and had the highest net deficit of all the pools run by Edinburgh Leisure.
The Royal Commonwealth Pool is due to reopen in the spring.
Deidre Brock, Edinburgh City Council's convener of culture and leisure, said the sale of Leith Waterworld (LWW) had been agreed in 2005 as part of the funding package for the major refurbishment of the Royal Commonwealth Pool (RCP).
"The RCP is currently being transformed into a world-class aquatics facility for the city, with a key role in the Glasgow 2014 Commonwealth Games," she said.
"It is due to reopen to the public in Spring 2012 and Edinburgh Leisure staff from LWW will be moving across to work at the RCP in January.
"This transfer programme has ensured that there will be no redundancies as a result of the LWW closure."