Protest against same-sex marriage at Holyrood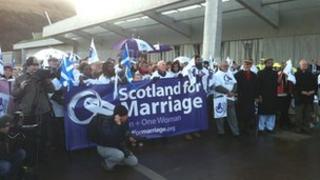 A campaign group has staged a protest outside the Scottish Parliament against proposed changes to the law which would legalise same-sex marriage.
Cardinal Keith O'Brien, the leader of the Roman Catholic Church in Scotland, and Ann Allen of the Church of Scotland spoke at the rally.
The Scotland For Marriage event was attended by about 200 supporters.
The group supports the current legal definition of marriage and is resistant to plans to redefine it.
The Scottish government launched a consultation in September asking if marriage in Scotland should be allowed for gay people through a civil or religious ceremony.
Scotland For Marriage
Currently, same-sex couples can enter a civil partnership which carries full legal rights but the ceremony cannot be conducted in a church or other religious premises.
A recent Scottish Social Attitudes survey found more than 60% of people believe same-sex couples should have the right to marry, compared with 19% who disagree.
Ministers and officials have been meeting with key groups to discuss the proposals, which would ensure religious organisations do not have to register same-sex marriages against their will.
The rally is the latest step in opposition to the proposals, and includes the delivery of about 20,000 postcards to the parliament signed by those who do not want same-sex marriage to be legalised.
The three keynote speakers - Cardinal O'Brien, Ms Allen, a former convener of the Church of Scotland's Board of Social Responsibility, and former SNP leader Gordon Wilson - also signed a petition.
It calls for a referendum on the issue and expresses concerns about the wider implications of redefining marriage.
Meanwhile, adverts will appear in newspapers and a poster van advertising the launch of the campaign group will drive around the streets of Edinburgh.
The cardinal said: "As an institution, marriage long predates the existence of any state or government.
"It was not created by government and should not be changed by them. Instead, recognising the innumerable benefits which marriage brings to society, they should act to protect and uphold it, not attack or dismantle it."
An SNP spokesman said: "There are a range of views across and within all parties on this issue.
"The SNP committed in our manifesto to launch a consultation on equal marriage and we would encourage anyone with a view to take part in that consultation."
Scottish Lib Dem leader Willie Rennie said: "I am very disappointed that senior and respected figures like Cardinal O'Brien and Gordon Wilson could be so intolerant.
"Liberal Democrats support the SNP government's effort to bring fairness and equality to marriage and we urge the first minister to stand firm against this campaign.
"What I find difficult to understand is why those opposed to equal marriage want to impose their views on everyone else when we are not seeking to impose our views on them.
"If two people want to get married and a church wants to conduct the service why should anyone stop them?"
Scottish Green co-convener Patrick Harvie said: "Scotland For Marriage is a good soundbite, and like other equality campaigners I believe that every couple who wish to marry should have the same right to do so under the law.
"The Greens, like everyone else who supports equality, absolutely support marriage for those who want it.
"We believe loving couples should be free to marry or be joined in civil partnerships irrespective of their gender, and the polls show strong support from the Scottish people for this position."