London 2012: Olympic rings 'not suitable' for Edinburgh Castle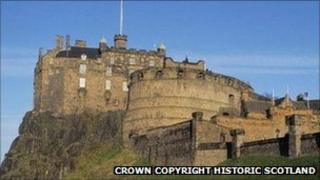 Olympic rings will not be erected on the side of Edinburgh Castle, the body that runs the historic visitor attraction has confirmed.
The London 2012 organising committee wanted to place the ring symbol on the ramparts for four months next year.
The 8m-high (26ft) aluminium rings would have been visible from several miles away.
Historic Scotland said the plans "would not be suitable for the successful operation" of the castle.
The move follows widespread controversy over a planning application to erect the large structure to promote next summer's Olympics.
'Full support'
A Historic Scotland spokesman said: "Historic Scotland has taken the decision not to permit the Olympic rings to be displayed on the ramparts of Edinburgh Castle.
"Following careful consideration it is clear that the proposal would not be suitable for the successful operation of Scotland's most popular heritage attraction.
"It may well be that there are other more suitable sites in Edinburgh, and the Scottish government and agencies will work with LOCOG (the games organising committee) and Edinburgh City Council to do what we can to assist with the consideration of alternatives.
"We fully support the Olympic Games and we look forward to hosting the Speed of Light event on Arthur's Seat to combine visual art with sporting endeavour and a number of our sites are on the Olympic torch relay route, including Edinburgh."