Sun to power Edinburgh's Jewel & Esk College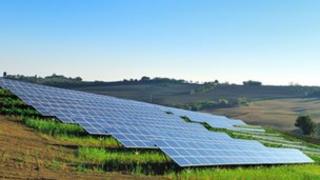 An Edinburgh college plans to unplug from the electricity grid and generate its own power with a "solar meadow".
Jewel & Esk College aims to create a one-acre site of 800 solar panels, which will generate 1,076KW of energy a day, enough to be energy-sufficient.
Surplus electricity from the solar meadow will be made available to local community groups and projects.
It is called a "solar meadow" because it would be planted with grasses and wildflowers.
The college said the project was one of a number being developed to reduce its reliance on government funding.
The solar power site will cost £300,000 to build but will save about £150,000 a year in electricity bills.
'Tremendously exciting'
The planning application was submitted to Midlothian Council earlier this month and the college said initial discussions were positive.
The site will be used as a study area for students to analyse the interaction between the biodiversity and the solar panels.
Professor Steve Tinsley, of Jewel & Esk College, said: "This is a tremendously exciting project for us.
"In creating the solar meadow we are providing the first teaching facility of its kind in Scotland for our students and lecturers, whilst developing innovative ways for the college to become less reliant on government funding.
"Such projects will help up-skill the next generation of engineers and play an essential role in closing the skills gap in low-carbon technologies.
"Knowledge transfer on this level can also significantly benefit our industry partners and the economy as a whole."
Work is scheduled to start early next year and should be complete by the end of the year.
Earlier this week Jewel & Esk entered merger talks with Stevenson and Telford College in Edinburgh, in light of Education Secretary Mike Russell encouraging higher and further education institutions to find ways of working in the face of public spending cuts.