Tree felling suspended at Water of Leith in Edinburgh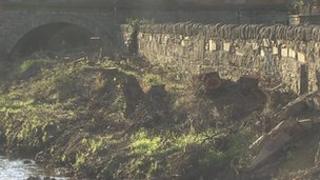 Tree felling has been suspended along an Edinburgh river bank after protesters complained the council had failed to follow planning guidelines.
The trees were being removed as part of the Flood Prevention Scheme to protect homes close to the Water of Leith.
The project to fell 151 trees started in March with it being halted after 118 trees were chopped down.
Edinburgh City Council wants to continue felling at Canonmills and Veitch's Square.
'Halted immediately'
The move comes after local residents discovered a statement that the trees at Canonmills Bridge are to be "protected during construction works" in the Leith Public Enquiry Report (2004) that considered the flood prevention scheme.
Local resident Ani Rinchen Khandro alerted the chief executive of the council, Sue Bruce, and requested that the works be "halted immediately".
Gordon Mackenzie, Edinburgh City Council's transport convener, said: "Tree felling on this section of the riverbank has been suspended to allow officials to ensure planning procedures are being followed.
"It is proposed that nine trees are removed but that the area will be landscaped and new trees planted when the works are complete.
"Twice as many trees will be planted along the length of the project to replace those removed during construction."