Toby Siddique murder trial: Doorman offered cash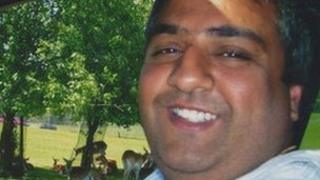 A Fife nightclub owner offered doormen cash to attack his brother, a murder trial has heard.
Toby Siddique, 38, allegedly the intended victim, was gunned down in a flat in Glenrothes in October last year.
His businessman brother, Mo, is now on trial at the High Court in Edinburgh, with two Bulgarian men, accused of plotting and carrying out the shooting.
Mo, Tencho Andonov, 28, and Deyan Nikolov, 27, deny the killing.
The trial, which has been running for four weeks, has heard how the brothers were involved in a range of lucrative activities including shops, a petrol station, rental property and a security company.
Toby, whose real name is Mohammed Nadeem Siddique, was also heavily involved in dealing in contraband cigarettes and alcohol, the jury has heard.
The trial has also heard of rows between the brothers over their business interests.
Mo Siddique, 42, also ran Blue Mondays night spot in Kirkcaldy High Street.
'Offered money'
John Keillor, 29, now an engineering student, spoke of his time there in late 2009 when he worked as a doorman, and lived in a flat owned by Mo Siddique's property company.
Advocvate depute John Scullion, prosecuting, asked Mr Keillor: "Did Mo ever ask you to do anything outwith your employment?"
Mr Keillor told the prosecutor: "Yes he offered money to me and another doorman to do over Toby and Marc McHardy."
Mr McHardy was also a Siddique employee, the trial has heard.
Asked what he thought "do over" meant, Mr Keillor said: "I didn't read too much into that. I didn't want to get involved."
Asked what he thought Mo meant, Mr Keillor said: "He was wanting him done over and he wasn't wanting just a quick kicking. That was all he said."
The conversation took place in the office of Blue Mondays in the early hours of the morning after the club had shut, said Mr Keillor.
He told the court that he left soon afterwards because, following his refusal, Mo Siddique had made things "awkward" for him, cutting his hours and claiming that rent payments had not been met.
He denied that he had made up the cash offer story as a way of getting back at his former boss.
Mr Siddique, Mr Andonov and Mr Nikolov deny conspiracy to murder and murdering Toby Siddique on 24 October last year at a flat in Forres Drive, Glenrothes.
Mo Siddique has lodged papers in court blaming another man and Mr Andonov and Mr Nikolov say they have alibis for the time of the shooting.
The trial continues.