Whale is freed from fishing nets off Dunbar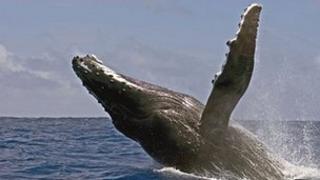 A 40ft-long whale has been successfully freed from fishing gear off the coast of East Lothian.
The humpback was reported trapped in a boat's nets on Tuesday. It escaped but was then trapped again in a line of creels off the Dunbar coast.
The whale had suffered serious injuries to its back and dorsal fin but experts believe it will make a full recovery.
A team from the British Divers Marine Life Rescue was helped by Dunbar Lifeboat.
Ali Jack, national organiser of BDMLR for Scotland, said: "We identified which line was coming from the whale and used six buoys to mark it.
"We managed to cut the line and at first the whale took off with the six buoys attached to it. It was like a scene from Jaws if you can imagine.
"We chased him for a bit in the lobster boat and cut the line with the buoys away."
Whale's injuries
Mr Jack said the whale, which was freed just before dark, appeared to have received some injuries during its attempts to escape.
He said: "There were some wounds on the body as you could expect after the struggle. It might be a bit sore for a while but there was nothing we would consider as life-threatening.
"This rescue could not have taken place without the help of RNLI Dunbar, we simply could not have done it without them."
Some members of the rescue team had come from Thurso in the far north of Scotland to try to free the whale.
A BDMLR spokesman earlier said the whale had been in distress because it had become "anchored" and had only been coming to the surface to breathe before disappearing under water.