Alex Salmond opens Amazon's Fife distribution centres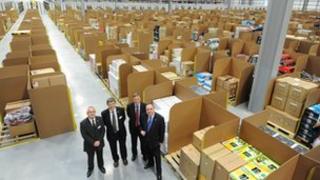 First Minister Alex Salmond has officially opened internet retailer Amazon's new centres in Fife and Edinburgh.
The company has created a one million-sq-ft (92,000-sq-m) distribution centre in Dunfermline and a customer services centre at Waverley Gate in the capital.
In January, the firm announced 950 full-time jobs for Dunfermline.
Then in May, Amazon said 500 permanent and 400 temporary positions were being created in Edinburgh.
Growing presence
Mr Salmond said: "The opening of Amazon's fantastic new fulfilment centre in Dunfermline is a testament to their continued success as a world-leading online retailer and to the skills and abilities of the Scottish workforce that the company continues to recognise in its investment decisions.
"The Scottish government, working with our enterprise agencies and with SDI, is determined to continue working with leading global companies such as Amazon to encourage them to invest and grow their business in Scotland, delivering jobs and supporting economic growth across the country.
"I'm also delighted to be able to meet staff both at the fulfilment centre and at the new customer services Centre in Edinburgh, to congratulate them on contributing to Amazon's continued success and its growing presence in Scotland."
Mr Salmond joined Fife Council leader Peter Grant and Amazon's vice-president of European operations, Allan Lyall, for the ceremony in Dunfermline.
The First Minister then met staff in Edinburgh.