Dalgety Bay beach: Gordon Brown calls for urgent action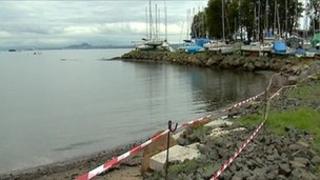 Former Prime Minister Gordon Brown has called for urgent action to tackle radioactive contamination on a Fife beach.
The MP for Kirkcaldy and Cowdenbeath is seeking a meeting with Defence Secretary Philip Hammond over the discovery of more than 200 particles at Dalgety Bay in the past few months.
The radioactivity is thought to come from dials of World War II aircraft.
Dalgety Bay hosted a wartime airfield, where many aircraft were dismantled.
The dials in the planes were coated with radioactive radium so they could be read at night.
Mr Brown's call followed the discovery this week of another "significant radioactive" source buried at depth at the beach.
Environment agency Sepa said if exposed through erosion the material would pose a risk to the community.
Mr Brown said the issue was the responsibility of the Ministry of Defence.
'Local fears'
He commented: "It was material from the armed forces that was deposited here and it is important that the fears of local residents be allayed, because they want to know that this area is safe for their children, safe for the boating and sailing that goes on here and also that the property values in this area are upheld."
In October, a particle 10 times more radioactive than any other was found.
A specialist team and equipment will now be needed to remove the latest find.
Sepa has advised the Ministry of Defence (MoD) of the find and has asked the MoD to support the agency in recovering the source or sources in order to remove "the significant hazard".