Murder bid accused's DNA on law chief Leslie Cumming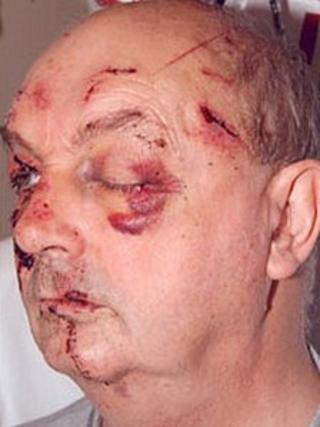 DNA taken from a knife attack victim gave a full match to the man accused of trying to kill him, a court has heard.
Leslie Cumming, 68, then deputy chief executive of the Law Society of Scotland, was attacked in a lane near his home in Murrayfield, Edinburgh.
Robert Graham, 46, denies attempting to murder the accountant in January 2006.
Analysis of swabs taken before surgery found DNA matching Mr Graham's profile, a forensic scientist told the High Court in Edinburgh.
Amanda Pirie said it had been a "full" match, which in relation to DNA evidence was "as good as it gets".
A forensic medical examiner took the swabs from Mr Cumming's fingernails before his hands were washed in preparation for an operation on his injuries at Edinburgh Royal Infirmary.
Ms Pirie told the court that DNA found on the jacket Mr Cumming was wearing when he was attacked on 23 January 2006 was also matched Mr Graham's profile.
"In our opinion the scientific findings from examination of the jacket and the left hand swabs are consistent with Robert Graham having assaulted Leslie Cumming as alleged," she said.
DNA profile
Ms Pirie said she had been provided with mouth swabs from Mr Cumming and Mr Graham that gave DNA profiles to use as references.
The swabs from the left hand of Mr Cumming contained DNA matching Graham's profile.
She said it was estimated that the probability was one in a billion of obtaining the match had the DNA originated from someone unrelated to Mr Graham.
The Barbour jacket worn by Mr Cumming was also examined and DNA evidence was recovered.
Ms Pirie said she and a colleague had considered the possibility of DNA being transferred through "social contact".
She said: "It is unusual just through social contact to get high order profiles to the extent we have."
Mr Graham is alleged to have repeatedly struck Mr Cumming on the head and body with a knife to his severe injury, permanent disfigurement and to the danger of his life.
The trial before judge John Morris continues.