Edinburgh pupils celebrate age 11 on 11/11/11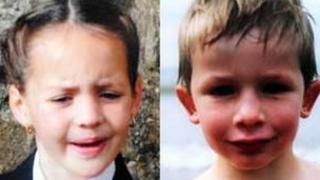 Two Edinburgh school pupils are celebrating a very special birthday as they have both turned 11 on 11/11/11.
Daniel Hinton and Bryony Turner, who live only three miles apart, will both go to James Gillespie's High School, next August.
Bryony, from Canongate, said: "I'm excited because it's not going to come again for another 100 years.
"I think it's good because not many people have this date as their 11th birthday, I only know of Daniel."
Her mother, Nicola Ford, added that Bryony almost missed having the unusual date as her birthday.
Pink limo
She said: "She was due on 2 November but I had her just over a week late. It wasn't until this year we realised the date.
"I don't think many kids are going to be 11 on 11/11/11.
"I've got a pink limo coming for her on Saturday, with kids' champagne and then she's going to have a sleepover."
Daniel, from Newington, has received a football shirt from his favourite team, Hibernian, complete with the number 11.
His mother Joanna said: "He's getting a mountain bike as a gift from all the family so he's very excited about that.
"His birthday is very exciting. I remember when he was born thinking 'he has to be born today' because it's a cool birthday.
"I wanted him to be born at 11 o'clock but he was born at 21:00 instead but he still has the 11/11 birthday."