Boroughmuir High School set for old brewery site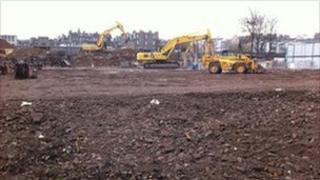 A city centre site once earmarked for a global banking HQ looks set to become the new home of an Edinburgh school.
The new Boroughmuir High School may be built on the old Scottish and Newcastle Brewery site at Fountainbridge after the seller accepted a council bid.
Edinburgh City Council has secured preferred bidder status, which means the site will be bought subject to the conclusion of missives.
The deal also has to be approved at a full council meeting on 24 November.
The purchase, from Lloyds Banking Group, is set to be confirmed before the end of the year.
A full consultation will then be carried out in the New Year on the proposal to move the school to Fountainbridge.
A new HBOS office development had been planned for the site before it was taken over by Lloyds TSB.
Consultation process
Officials have been considering options for a new site for Boroughmuir since the Scottish government announced part-funding for a new school in December 2010.
The government would provide up to two thirds of the cost of replacing the school.
Marilyne MacLaren, Edinburgh City Council's education leader, said: "I'm delighted that we have moved a step closer to securing a new home for Boroughmuir and to achieving our commitment to build three new secondary schools for Edinburgh.
"The school has been on the re-build list for many years and the school community had almost given up hope of finding a suitable site.
"The Fountainbridge site will allow the school to be developed within a city centre location in a unique and special learning environment on the Union Canal.
"We want to design another school of the future for Edinburgh where learning and teaching, the school ethos and the school community are at the heart of the development."
The existing school in Viewforth has become run-down.
Although the new site would be the recommended option, the consultation process will also include a second option to refurbish and extend the existing high school building.