Sister worried for Siddique murder accused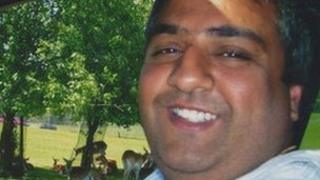 The sister of a man accused of killing a wealthy businessman has admitted being "worried" for her brother in the days following the shooting.
Tsvetlina Andonova told the High Court in Edinburgh she spoke to Tencho Andonov, 28, twice by phone on 29 October 2010.
Toby Siddique, 38, was shot dead in Glenrothes, Fife, five days earlier.
Mr Andonov, 28, Deyan Nikolov, 27, and Mo Siddique, 42, all deny killing Mr Siddique's brother Toby.
Tsvetlina told Advocate Depute John Scullion, prosecuting, that her brother was supposed to fly back to Bulgaria to deal with the aftermath of a supposed car crash involving his girlfriend and her father.
But he failed to tell her whether he had actually travelled in the days after she bought him his plane ticket.
Mr Scullion asked: "Were you worried because you knew there was no car crash?"
Tsvetlina replied: "No."
Special defences
When Mr Scullion asked her if she tried asking him any more questions to discover his exact whereabouts, Tsvetlina said: "He didn't want to say exactly where he was.
"I think it's inappropriate to ask him questions that he doesn't want to answer."
Mohammed Siddique - known as Mo - along with Tencho Andonov and Deyan Nikolov, denies murder and conspiracy to murder charges.
The trio also deny attempting to murder security worker David Dalgleish.
Mo Siddique and Mr Andonov have both lodged special defences incriminating Mr Dalgleish for the alleged murder.
Mr Andonov further claims that at the time of the shooting he was in a parked car in Glenrothes.
Mr Nikolov's alibi claims he was at home in Kirkcaldy, Fife.
The trial, before judge Lord Kinclaven, continues.