Military awards for Edinburgh veterans medical team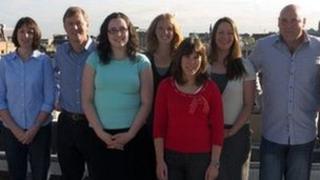 A Scottish medical team which supports veterans has been honoured at a ceremony that recognises the "best of the best" in military health care.
At Veterans First Point (V1P), based in Edinburgh, veterans themselves help other veterans through appointments, a drop-in service and therapy.
It is funded by NHS Lothian and the Scottish government.
The team was recognised in two categories at the Military and Civilian Health Partnership Awards.
By focusing on both welfare and mental health, V1P offers holistic support and treatment for veterans, helping them to improve all areas of their life.
Those using the service can also be referred to a clinical team that includes a veterans' therapist, counsellor and clinical psychologist.
Health Secretary Nicola Sturgeon said: "The prestigious Mental Health and Care of Veterans awards are testimony to the innovative and high-quality services provided by V1P to our armed forces personnel and veterans.
"The staff of V1P are to be congratulated for their skill, dedication and professionalism in making a difference to the lives of those who seek out their specialist help and support."
Andrew Robathan MP, minister for defence personnel, welfare and veterans, said: "Thanks to the excellence of our people working in partnership, the quality of care available to our armed forces - from emergency life saving procedures on operations to primary care at home and overseas - is quite remarkable.
"These awards are about honouring the best of the best, people who, often in the most demanding of circumstances, are delivering exceptional health care."
The annual awards attracted more than 100 nominations from military and civilian medics across the country this year.