Edinburgh pandas: Zoo keeper tells of 'trepidation'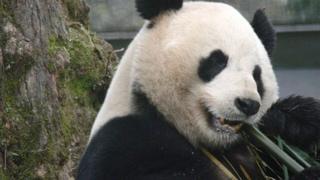 The keeper charged with looking after the pandas at Edinburgh Zoo has spoken of her "trepidation" ahead of caring for the "iconic species".
Alison Maclean told the BBC Scotland news website that she was "excited" at the thought of being in charge of their "health and welfare".
However, she said it was a "pretty big weight" on her shoulders. She added it was also a huge privilege.
It is hoped the pandas will arrive at the zoo before the end of the year.
Ms Maclean, who has looked after captive bears for 25 years, will be in charge of looking after Tian Tian and Yang Guang when they move to Edinburgh from their home in China.
Ms Maclean, from Glasgow who has been working at Edinburgh Zoo for 10 years, has just arrived back from a three week visit to see the pandas in the Bifengxia Panda Centre in Ya'an near Chengdu, Sichuan Province.
She said: "I went out there to build up a trust with the pandas. I spoke to them all the time so they could become used to my tone of voice.
"I didn't learn the Chinese words because it is more about the tone of your voice and the signals you make to them.
"When the female is in season I will need to take swabs, urine and blood samples from her so I had to gain her trust so she would allow me to do this.
"They have been trained to put their arms out so I can take blood samples. She will only allow you to do it though if she trusts you.
"They are as dangerous as any other bear, they will grab at you and have enormous teeth and powerful forearms so I am not going to cuddle them. I will have a huge amount of respect for them."
They are also trained now to come to their indoor cage when they are called by Ms Maclean.
Although they will have a diet almost exclusively of bamboo they do eat rats, mice, pikas (rabbit-like creatures) and eggs.
However, Ms Maclean said they would be fed panda cake, which is steamed protein and other nutrients instead of any carrion or eggs.
She added: "I am excited but it is tempered with trepidation to be in charge of one of the most iconic species on the planet.
"It is a pretty big weight to be in charge of their health and welfare but also a huge privilege."
She said the enclosure was slightly smaller than the one in China but said when it came to pandas it was not about the size of space but rather the quality of climbing structures and water features.