Law Society chief Leslie Cumming tells of attack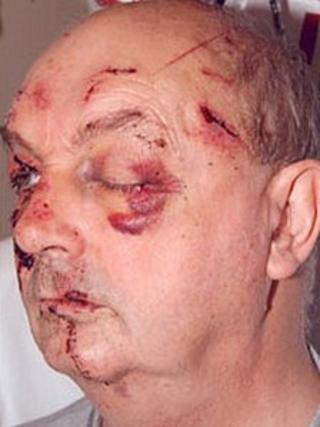 A senior law official has described the moment he was attacked by a masked man as he returned home from work.
Leslie Cumming, 68, was the Law Society of Scotland's deputy chief executive at the time of the attack in January 2006.
He was giving evidence at the trial of Robert Graham, 46, who is accused of his attempted murder in Edinburgh.
Mr Cumming described seeing a "circle of pale face coming out of the darkness" as he got out of his car in a lane behind his home in Murrayfield.
Mr Graham denies the charges at the High Court in Edinburgh.
Mr Cumming described the masked man as wearing a balaclava but he saw eyes, nose and mouth.
Mr Cumming told the jury he had tried but failed to pull the balaclava off his attacker to identify him.
He said he remembered being struck on the side of his face and then shortly afterwards realising he had blood running down the side of his neck.
Mr Cumming said he realised there was a blade involved. He told the jury as the struggle continued he lost his balance and toppled over.
He said as he tried to get up there was a "pounding on my back, a tattoo of blows".
He added that he had been on a team-building day before the attack.
Mr Cumming told the court how he had been in hospital for two days after the attack.
He pointed to the right hand side of his face and described how he had been left with a scar as well as one on his chin and multiple marks on his back.
He described how he had returned to work very quickly afterwards. He said: "I have made a very deliberate attempt to put myself back together and get on in life."