George Temple jailed for carving initials on girlfriend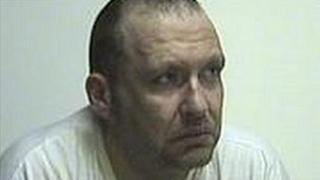 A man who carved his initials onto his girlfriend's stomach has been jailed for nine and a half years.
George Kennedy Temple, 40, held Julie Rutherford, 36, down as he cut GKT on her body before telling her: "You'll always remember me."
Ms Rutherford also suffered cigarette burns to her arms, legs and torso during the horrendous domestic abuse.
Temple earlier admitted assaulting the 36-year-old to the danger of her life between April and October 2010.
Judge Lady Dorrian told Temple on Monday: "This case displays an appalling history of violence and abuse.
"It is hard to believe that a human being could behave towards another in such a depraved and monstrous way."
She also ordered the 40-year-old to be supervised for a further six years on his release from jail.
'Too scared'
The attacks took place at a property in Westburn Grove, Edinburgh, after the couple began dating in June 2009.
Prosecutor Gary Allan QC said: "She has difficulty recalling each instance of violence as she was beaten so frequently by the accused."
He added: "The catalogue of serious violence towards her included regular beatings with fist and foot and assaults including the use of a wooden pole and knives."
The court heard Temple had up to four kitchen knives with tape around the handles to hide his fingerprints.
Ms Rutherford never went to police because she was too scared and Temple had taken her mobile phone.
The violence only came to an end after Temple beat her up at the capital's Wester Hailes Shopping Centre and members of the public called the police.
Temple later claimed to officers that his relationship with Ms Rutherford had been excellent until she got into debt.
The court was told Ms Rutherford was severely traumatised by her ordeal and had moved away from Edinburgh.
Jim Stephenson, defending, said: "He does accept the damage he has caused to the complainer. There had been periods of jealousy and paranoia.
"What he has done is going to cause ongoing difficulties to Julie Rutherford."