Dalgety Bay beach: Significant radioactive source found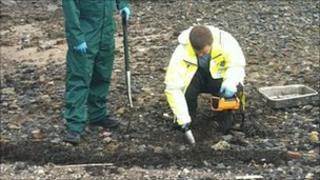 Another "significant radioactive" source has been found buried at depth at Dalgety Bay beach in Fife.
Environment agency Sepa said if exposed through erosion the material would pose a risk to the community.
The radioactivity is thought to come from dials of World War II aircraft which were scrapped there.
In October, a particle 10 times more radioactive than any other was found. More than 200 particles have been found in monitoring over the past few months.
A specialist team and equipment will now be needed to remove the latest find.
Sepa has advised the Ministry of Defence (MoD) of the find and has asked the MoD to support the agency in recovering the source or sources in order to remove "the significant hazard".
On Monday, Sepa met officials from the MoD, the Scottish government, the Food Standards Agency, Fife Council, the Health Protection Agency, NHS Fife and the local community at an interim meeting of the Dalgety Bay Forum.
At the meeting Sepa presented the results of its most recent round of monitoring and particle retrieval work which concluded that "there appears to be a number of caches of contamination which could be managed to prevent their release into the environment".
A full meeting of the Dalgety Bay Forum is planned for 22 November.
A Sepa statement said: "Sepa is keen that an appropriate long term remediation plan for Dalgety Bay is developed.
"However, in the absence of a suitable plan, Sepa may need to designate an area around the foreshore at Dalgety Bay as Radioactive Contaminated Land to ensure the public is suitably protected."
Dalgety Bay was the site of a World War II airfield, where many aircraft were dismantled.
The dials in the planes were coated with radioactive radium so they could be read at night.
It is thought they were incinerated along with other waste, then later tipped on the land and used to help reclaim some of the coastline.
Numerous surveys have been carried out on the beach since radiation was first discovered in 1990.