Stuart Kitt jailed for putting girl, 4, in freezer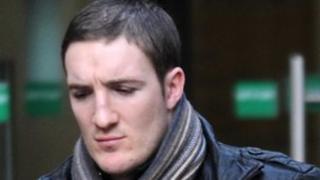 An Edinburgh man has been jailed for four years and three months for forcing a four-year-old girl into a freezer.
Stuart Kitt, 33, tried to pin the blame on the child's mother during his trial at Edinburgh Sheriff Court.
But a jury found the scaffolder guilty of the "cruel and wilful" attack, which saw the girl, now eight, inflicted with permanent burn marks to the skin.
During the four-day trial, the young victim broke down in tears as she gave evidence to a court via video link.
Sheriff Kenneth Maciver described the attack as a "nasty and vicious assault".
'Very upset'
Kitt was convicted of dragging the girl by her ankles and placing her arms in the freezer cabinet, to her severe injury and permanent disfigurement.
He was also found guilty of two charges of failing to appear in court.
The 33-year-old was acting as the girl's babysitter at an address in the city on the night in October 2007 when the incident happened.
After the verdict was delivered, Fiscal Depute Ian Wallace said: "According to information from the girl's father, in the weeks afterwards she suffered nightmares and often became very upset."
Mr Wallace said this had "eased" and medics now described the girl as "flourishing".
Sheriff Maciver told the court he had enough information about the child's welfare and evidence from doctors to sentence Kitt straight away.
Previous convictions
He gave Kitt three years for the attack on the girl and 15 months for twice failing to appear at court.
He said: "The word cruel has been used and I think it's fair. My main concern in sentencing is what type of effect this assault will have."
Kitt had a child of his own, who was 16, said the agent.
Kitt had a lengthy schedule of previous convictions, said Mr Hughes, but none of them related to violence towards children.
Pictures taken at the Royal Hospital for Sick Children, Edinburgh, on 12 October 2007 of the girl's injuries were shown to the court.
One showed white markings on the girl's throat.
Others showed views of her left foot, her lower back, her bottom.